About Choke-lahoma.com
Choke-lahoma.com is dedicated to our friends in Norman who seem to take every opportunity handed to them and choke. The lovable losers need to be reminded from time to time that they are not forgotten. We remember each and every humiliating loss captured on nationally televised bowl games.
What to expect
Quality Shirts for Texas fans
Koozies and other items
Sports insight on the Longhorns and more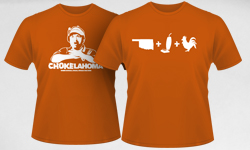 What customers say
My Texas friends loved it, my Okie family couldn't help but smile. Keep the ideas coming!

Texas super fan
Why do we talk?
Everyone's doing it, although not as often as we used to. Social media allow us to vent frustration, raz our friends, and be generally annoying to the mass.

It's not always making fun of our loveable losers to the north (and we ain't talking about Canada!). Occasionally we poke a little fun at other teams and other sports.
Ready to read a bit?

Legal Junk
Chokelahoma is neither endorsed by nor affiliated with the University of Texas, the University of Oklahoma, or any other public or private school. If we need to make this any clearer, you need professional help. (That is an opinion and not an accusation or personal attack, darn lawyers)